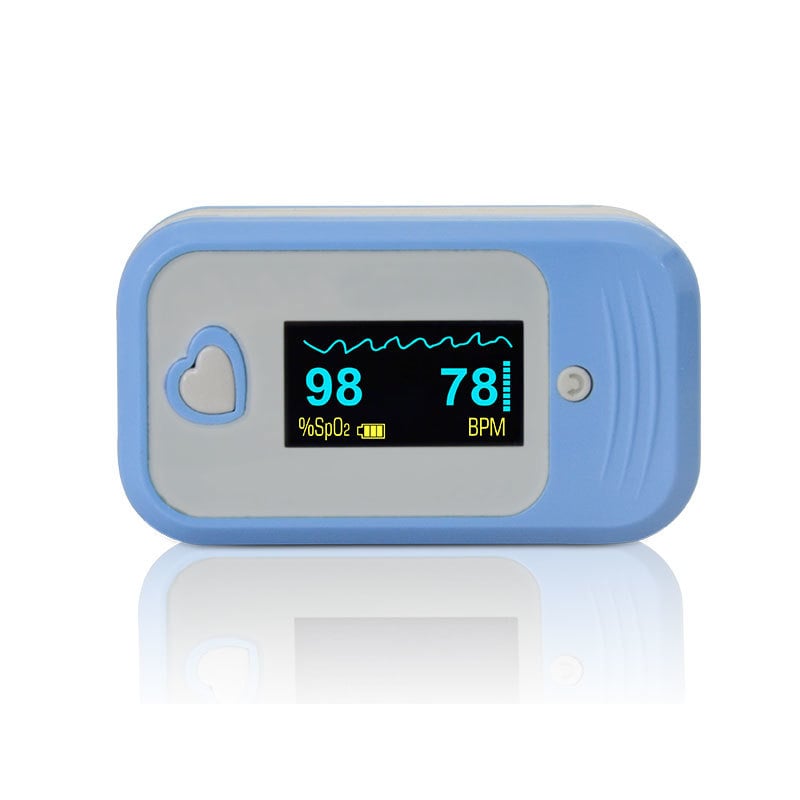 #

Product Trends
Internationally acclaimed oximeter——Medlinket's temperature-pulse oximeter
Internationally acclaimed oximeter——Medlinket's temperature-pulse oximeter
After autumn, as the weather gradually cools down, it is the season of high incidence of virus transmission. The domestic epidemic is still spreading, and the prevention and control measures of the epidemic are becoming more and more stringent. The decrease in blood oxygen saturation is one of the typical symptoms of new coronary pneumonia. Important equipment for the initial investigation of the epidemic.
Finger clip temperature-pulse oximeter, used for screening, diagnosis, condition observation and self-management of patients with respiratory diseases. In developed countries and regions such as Europe, the United States and Japan, people attach great importance to blood oxygen testing. Blood oxygen saturation has become an important physiological indicator for daily testing in ordinary families, and oximeters have become essential medical products for personnel. In China, the penetration rate of oximeter is low. In fact, many times we are in a state of hypoxia without knowing it. For example, symptoms such as dizziness, fatigue, unresponsiveness, and memory loss are manifestations of hypoxia. Although mild hypoxia is not easy to detect, it is mild for a long time. A degree of hypoxia will have serious harm, so it is necessary to monitor blood oxygen in order to take protective measures in time.
When buying medical electronic products, many people like to read the evaluation before buying, but after wandering between major brands, they still don't know how to choose. In fact, there is such a brand Medlinket around you.
Let's take a look at Medlinket's evaluation in the international market:
Medlinket's temperature-pulse oximeter is well-known in the international market, has a good reputation, and is loved by international consumers. American clinical laboratories have verified the accuracy and effectiveness of this oximeter for many years, and MED LINKET blood oxygen products have won numerous quotations from the British NHS. It can analyze blood oxygen samples of more than 10,000 different skin tones and blood types, and can even accurately measure adults and children (12 years and older). Next, I will take you to take a closer look at Medlinket's finger clip temperature-pulse oximeter:
Product advantages:
1.5 in 1 accurate continuous readings: This blood oxygen saturation monitor provides reliable continuous readings of blood oxygen saturation, body temperature, pulse rate, perfusion index and plethysmograph in a non-invasive way, without having to go to the hospital for blood sampling or bear The pain of skin and flesh avoids the possibility of cross-infection.
2. Body temperature measurement: Body temperature is an early warning signal of infection. This pulse oximeter has a unique function of monitoring body temperature. External temperature probes (skin-surface temperature probe and Rectal/Esophageal temperature probe) can be connected to continuously monitor and record body temperature.
3. Over-limit reminder function: before the blood oxygen level, body temperature and pulse rate reach the upper or lower limit, early detection and identification, providing an emergency call function.
4. LED display, easy to read data during day and night. The screen angle and screen brightness can be adjusted at the same time.
5. Anti-shake function: adopts Japanese imported chips and a combination of exclusive registered patented algorithms, allowing you to accurately measure in both static and dynamic environments. Elderly people with trembling hands, especially those with Parkinson's disease, can still achieve continuous measurement.
The COVID-19 is still spreading. As a popular product in the current health market, the oximeter has the characteristics of high accuracy and non-invasive technology. Choosing a portable household oximeter can not only meet the needs of safety testing, but also effectively prevent cross-infection. The brands on the market are also a mixed bag. You still have to do your homework in advance when you buy. I hope this article can give you some reference.