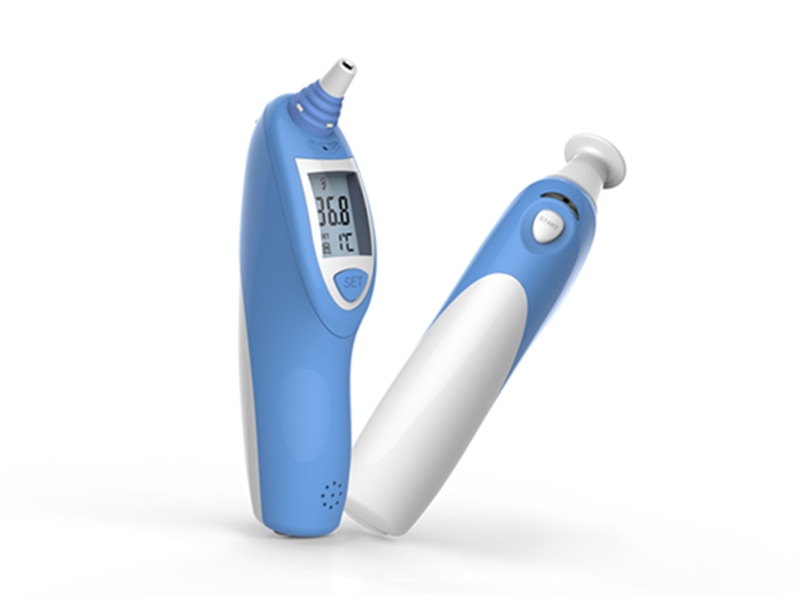 #

Product Trends
Medlinket Digital Infrared Thermometer, a good helper for measuring baby's temperature
Medlinket Digital Infrared Thermometer, a good helper for measuring baby's temperature
With the advent of new coronary pneumonia, body temperature has become the object of our constant attention. In daily life, the first symptom of many diseases is fever. The most commonly used thermometer is the thermometer. Therefore, the clinical thermometer is an indispensable tool in the family medicine cabinet. There are four common thermometers on the market: mercury thermometers, electronic thermometers, ear thermometers, and forehead thermometers.
So what is the difference between these four types of thermometers?
The mercury thermometer has the advantages of being cheap, easy to clean, and easy to disinfect. It can measure oral temperature, axillary temperature, and rectal temperature, and the measurement time is more than five minutes. The disadvantage is that the glass material is easy to break, and the broken mercury will pollute the environment and be harmful to health. Now, it has gradually withdrawn from the stage of history.
Compared with mercury thermometers, electronic clinical thermometers are relatively safe. The measurement time ranges from 30 seconds to more than 3 minutes, and the measurement results are more accurate. Electronic clinical thermometers use certain physical parameters such as current, resistance, voltage, etc., so they are vulnerable to ambient temperature. At the same time, its accuracy is also related to the electronic components and power supply.
Ear thermometers and forehead thermometers use infrared to measure body temperature. Compared with electronic thermometers, it is faster and more accurate. It only takes a few seconds to measure body temperature from the ear or forehead. There are many influencing factors for the forehead thermometer. Indoor temperature, dry skin or forehead with antipyretic stickers will affect the measurement results. However, forehead temperature guns are often used in places where there is a large flow of people, such as amusement parks, airports, railway stations, etc., which need to be quickly screened for fever.
The ear thermometer is usually recommended for home use. The ear thermometer measures the temperature of the tympanic membrane, which can reflect the real body temperature of the human body. Put the ear thermometer on the ear thermometer and put it in the ear canal to achieve fast and accurate measurement. This kind of ear thermometer does not require long-term cooperation and is suitable for families with babies.
What is the difference between Medlinket's Smart Digital Infrared Thermometer?
Medlinket Smart Digital Infrared Thermometer is especially suitable for families with babies. It can quickly measure body temperature and ambient temperature with one key. The measurement data can be connected via Bluetooth and shared to cloud devices. It is very smart, fast and convenient, and can meet the needs of household or medical temperature measurement.
Product advantages:
1. The probe is smaller and can measure the baby's ear cavity
2. Soft rubber protection, soft rubber around the probe makes the baby more comfortable
3. Bluetooth transmission, automatic recording, forming a trend chart
4. Available in transparent mode and broadcast mode, fast temperature measurement, it takes only one second;
5. Multi-temperature measurement mode: ear temperature, environment, object temperature mode;
6. Sheath protection, easy to replace, to prevent cross-infection
7. Equipped with a dedicated storage box to avoid probe damage
8. Three-color light warning reminder
9. Ultra low power consumption, long standby.