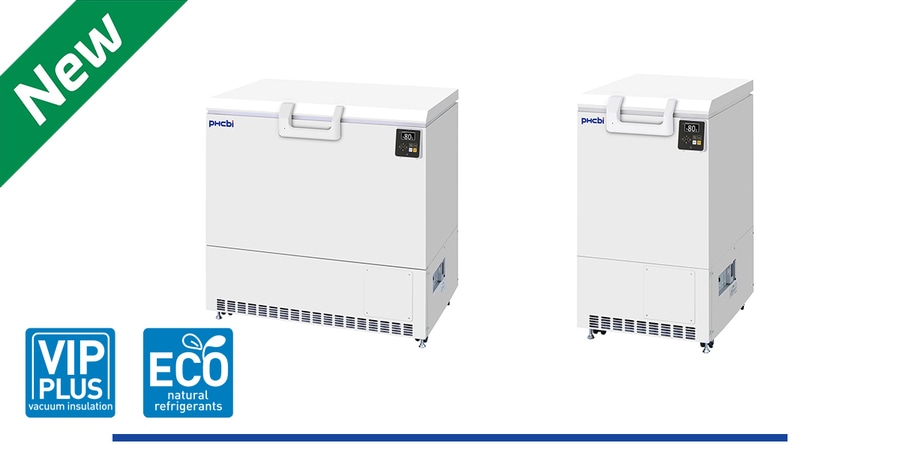 #

Product Trends
PHCbi introduces NEW VIP ECO -80°C Chest Freezers
An ideal long-term preservation solution
We are thrilled to introduce the latest innovation in ultra-low temperature storage from the trusted PHCbi brand – the VIP ECO -80°C Chest Freezers! As a valued member of our community, we wanted you to be among the first to discover the incredible features and benefits that this groundbreaking freezer brings to your research, storage, and sustainability efforts.
PHCbi's MDF-DC102VH-PE (84 liter) and MDF-DC202VH-PE (180 liter) VIP ECO Chest Freezers provide maximum sample storage capacity within an optimum footprint combined with industry leading cooling performance and reliability for an ideal long-term preservation solution.
Minimal Footprint
PHCbi VIP ECO ULT freezers provide up to 30% more storage capacity than a conventionally insulated freezer without increasing the footprint. The MDF-DC102VH-PE and MDF-DC202VH-PE feature VIP PLUS vacuum panels for increased energy efficiency and cooling performance
Efficient Refrigeration
Naturally occurring hydrocarbon (HC) refrigerants provide more efficient cooling due to their high latent heat of evaporation. As well as improved performence this leads to lower GWP.
Optimum Sample Storage
The use of patented VIP PLUS panels within the freezer cabinet provides a reduced wall thickness for maximum interior volume. This technology allows the MDF-DC102VH-PE and MDF-DC202VH-PE to require a small installation space with a great storage capacity.
Are you interested in our VIP ECO ULT Freezers, or do you have some questions left? We are here for you. Contact us by clicking button below and we will contact you within 5 workdays.