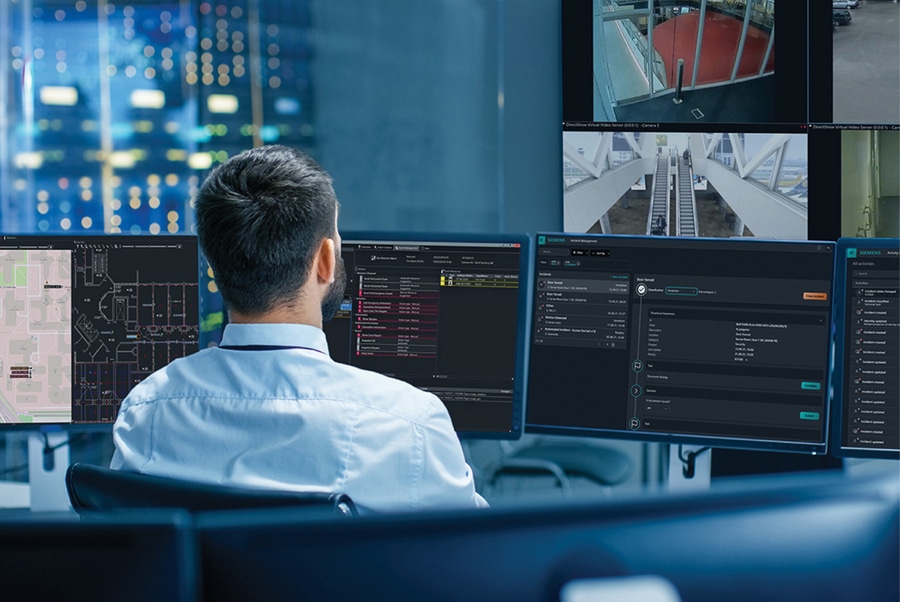 #

Industry News
Surveillance systems to keep hospitals safe
Advanced technology and greater use of analytics drive recent innovations, aiding hospitals in the fight against increased workplace violence
Hospitals pose many challenges to manufacturers of video security systems (VSS) through a variety of complex scenarios that include the need to balance security with privacy, the prevalence of false alarms, compliance with evolving regulations and the increased number of violent incidents.
The safety and security of patients, visitors and staff is a priority for hospitals that are challenged with people entering and exiting facilities at all hours every day. Security personnel are tasked with monitoring multiple buildings and their surroundings for suspicious activity and alarm response. Some hospitals may struggle with outdated systems that lack quality video coverage, recording capabilities and sufficient data storage.
Lighting levels are another challenge. It is not just about low-light levels, but also too much light coming through glass windows and doors. Low-light problems can be overcome by using infrared (IR) cameras or cameras with low-light technology. In areas with too much light, cameras with a high-dynamic range (HDR) rating between 120 and 140 decibels are needed.
At the same time, the growth of off-campus facilities and clinics is creating a greater need for scalable security systems. With sites spread across many locations, facilities managers need to be able to expand systems both on-site and off-site to ensure that all safety needs are covered. This means that modern VSS need to be streamlined, versatile and flexible.
"As campuses expand beyond traditional borders, the need to secure facilities without a proportional increase in security personnel makes video surveillance systems a critical part of providing adequate coverage," says Mike Reading, product engineering team lead at i-Pro Americas Inc., Houston. "Artificial intelligence (AI)-based analytics can ensure that operators are notified in real time when events occur that warrant a response."
Expanding technologies
The growth of technologies such as the Internet of Things (IoT), infrared and software analytics is a big part of the evolution of VSS in hospitals. In fact, IoT devices, such as smart cameras and sensors, can be integrated with VSS to provide real-time monitoring and data analysis. "This allows hospitals to proactively detect potential security incidents and respond quickly to mitigate risks," says Alan Stoddard, CEO of Intellicene, Melville, N.Y. "AI algorithms, such as facial recognition and object detection, can be integrated into video surveillance systems to enhance security and improve situational awareness."
IoT has emerged as a functional requirement for new installations, according to Dave Stolerow, national business manager for enterprise and smart buildings/security at Siemens Smart Infrastructure USA, Norcross, Ga. "Video systems provide insight into where people are located within a facility, and AI provides improved object detection. This technology is considered a triggering data point for all sorts of building applications today. With integration to other IoT systems, it is far exceeding the traditional use of video as a security solution."
Surveillance cameras are more than just video capture devices, says John Wekenborg, application design specialist for Bosch Security and Safety Systems, Fairport, N.Y. "They are intelligent sensors that can be tasked with looking for specific details and reporting on those details in real time. When a video system is deployed properly, it can help to increase the efficiency of staff and improve patient flow."
Bosch Security and Safety Systems has unveiled Flexidome 5100i cameras with Intelligent Video Analytics (IVA) Pro. The cameras feature an IVA Pro Buildings Pack to improve building security. Built-in video analytics support reliable intrusion detection and accurate people counting in crowded areas, especially in and around buildings.
"Users gain high-image quality for 24/7 performance with starlight, HDR and intelligent IR illumination," Wekenborg says. "Starlight technology increases sensitivity for enhanced colors in low light and reduces motion blur on moving objects in dark areas; HDR ensures perfect exposure even in scenes with a large dynamic range, capturing all details in bright and dark areas; and IR illumination allows the camera to see up to 45 meters in total darkness and ensures that objects of interest are perfectly exposed even when close to the camera. The fixed cameras also offer gyro-based electronic image stabilization to control image stability."
Hikvision USA, City of Industry, Calif., has introduced TandemVu PTZs, which feature a bullet and pan-tilt-zoom camera in one unit so security professionals can zoom in on a suspect while maintaining a big-picture view of the scene. The cameras also feature the company's ColorVu technology, which provides vivid colorful imaging, even in darkness, according to John Xiao, vice president of marketing. "They deliver full-color video and images around the clock for facilities that operate 24/7."
Hikvision USA also offers the HikCentral Professional video management system (VMS), which features an evidence management component that allows users to easily extract video and photos from playback and allocate them to an evidence management location. "Once there, video can be stored for at least 90 days. This enables users to quickly pull video from the VMS platform to sort it into evidence management," Xiao says.
Axis Communications, Chelmsford, Mass., has introduced the Axis W101 body-worn camera. With a battery life of up to 15 hours at 1080p resolution, location tracking and automatic recording activation, the camera allows health care security teams to easily collect forensic-quality video and audio that can be used to help solve criminal investigations and quell false complaints against staff, according to Paul Baratta, health care segment development manager.
Axis Communications also offers Loitering Guard, an edge-based application that analyzes video directly on the camera or video encoder, tracking moving objects and triggering an event when someone has been in an area for too long. "Users can program automatic responses to event triggers, such as automatically playing a message from loudspeakers or turning on lights," Baratta says. "They can even trigger actions such as sending email and live video stream alerts so that staff can take swift action."
Platform performance
Genetec Inc., Montreal, offers the Genetec Security Center, which features a unified open-architecture platform. The latest version, Security Center 5.11, gives users access to various modules including video management, access control, automatic license plate reading and intrusion monitoring. Other features include analytics, advanced mapping functions and threat-level management. The new version also features an intuitive, map-based application that runs on any modern web browser.
"By providing a unified view of all on-site operations, the Genetec security platform helps hospitals respond more quickly to incidents and mitigate workplace violence while facilitating compliance," says John Joyce, director of enterprise markets in the U.S. "It simplifies daily tasks and optimizes staffing by automating operations."
Siemens Control Pro offers the ability to bring safety systems, multiple security solutions, and notification and communications systems into a single operating platform, according to Stolerow. "The command-and-control platform provides a streamlined workflow for operators to manage alarms and events as they occur. Geographic information system and situational awareness allow for efficient dispatching of personnel resources as well as the tracking of assets and people throughout a hospital or campus."
Intellicene offers the Symphia 8.0 integrated, intelligence-driven portfolio of security solutions that are designed to deliver actionable insights for deeper situational awareness and more effective incident management, response and investigation, according to Stoddard. "By using AI and predictive analytics, these solutions can help anticipate, prevent and mitigate threats in health care environments."
Arcules, Irvine, Calif., offers an intuitive, cloud-based platform that unifies data from video surveillance systems. The company recently introduced a forensic video search feature that can analyze large amounts of information generated from video and IoT devices. "The forensic search identifies vehicles and people, and delivers advanced search capabilities based on tint, area of interest and desired level of resemblance," says Steve Prodger, chief revenue officer. "Video data from any camera connected to an Arcules cloud gateway can be analyzed with forensic search, saving hours versus manual searching."
Added analytics
i-Pro Americas Inc. has introduced AI Scene Change Detection, an analytic that can memorize a normal scene and alert operators when anomalies persist. One example could involve an outside door that is propped open when it should be closed. "The analytic will ignore normal door opening and closing behavior (and the movement of people in the scene), but it will alert security when the door remains open for more than five minutes. It also can be used to alert staff when stock is running low on a shelf," Reading says.
Motorola Solutions, Chicago, offers video security systems that are embedded with analytics, such as Focus of Attention and Appearance Search, which allows operators to conduct quick video searches. Focus of Attention uses AI to detect and flag suspicious events by highlighting them visually to indicate different levels of importance. In contrast, traditional security operation centers display hundreds of cameras on multiple screens that make it difficult for security personnel to identify when an incident is taking place.
"With Focus of Attention, when a duress button is pressed by staff, the corresponding camera in the area near the alarm will automatically be pulled up on the screen," says Sharon Hong, vice president of enterprise technology. "Appearance Search video analytics helps security locate a specific person. For example, in the event of a patient elopement, security can upload an image of the patient or enter physical descriptions into the Avigilon Control Center and initiate a search across multiple sites to reveal the individual's last-known location."
The biggest challenge for VSS in hospitals today is the need to incorporate AI-enabled analytics to provide actionable information, according to Lee Guill, director of security solutions for digital buildings at Schneider Electric, Reston, Va. To that end, the company has entered into partnerships with cloud-based, AI-enabled event management systems. These systems aggregate data from many sources, including video analytics and biometric information, to provide a comprehensive view of hospital security.
Schneider Electric's video security systems offer video analytics integration, which allows hospitals to analyze video footage in real time, providing actionable insights and enabling rapid response to security incidents. "One recent example is a mental health hospital that incorporates varying levels of criticality inside a building," Guill says. "The Schneider systems incorporate biometric integration from video and access control systems, providing a comprehensive view of the hospital's security posture and allowing for the integration of security measures into standard operating procedures."
Future focuses
One area of focus in the future is likely to be the integration of AI and machine learning, which will allow for real-time video data analysis, providing enhanced security and more accurate threat detection, says Prodger. "Another area will be biometric authentication, such as facial recognition and fingerprint scanning, to improve access control and prevent unauthorized access to sensitive areas."
Stolerow predicts that, with the acceptance of drone use to deliver medical supplies, organs and transplant materials, there will be a new set of surveillance needs as hospitals begin to look to the airspace. "Radar detection will become prevalent, as drone services will need to be managed, both as a tool as well as a potential threat."