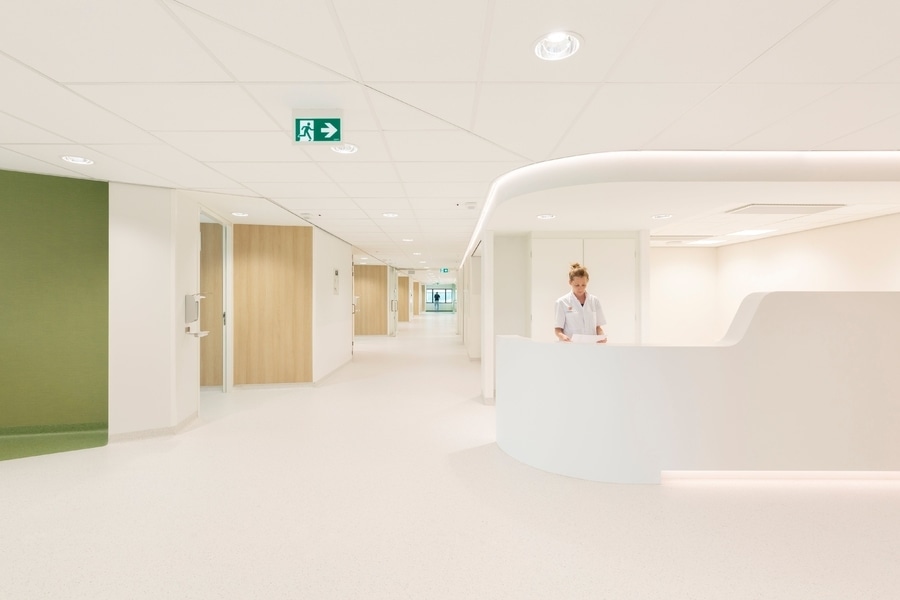 #

Industry News
Sustainable flooring for healthcare
The urgent need to address the climate crisis has put added pressure on Architects, Designers and Estate Teams when it comes to designing sustainable healthcare facilities.
The health industry alone produces around 18 million tonnes of CO² annually, which is 3.2% of all CO² emissions for the UK. In fact, NHS hospitals have greater CO² emissions than the combined emissions of all flights out of Heathrow airport*.
Adopting a life cycle approach for the construction of hospitals and other healthcare facilities is key in reducing environmental impacts, while contributing to the well-being of the occupants. By choosing a floor with high levels of recycled content, bio-based or bio-attributed material, and ensuring it can be recycled post-use, will help reduce your carbon footprint.
To help decarbonise our NHS, we have created a Carbon Calculator. This new tool is the first of its kind and provides complete transparency of a floors carbon emission in the various life cycle stages: raw material extraction, the manufacturing process, material transportation and end of life scenario. Addressing the full product life cycle, and using Environmental Product Declarations (EPD's) that are third-party verified to do so, means you have accurate and non-bias information.
By using Tarkett's Carbon Calculator during the specification stage of your project, your healthcare facility will:
. Lower its environmental impact
. Reduce waste
. Help decarbonise the building
Tarkett's Commitment
Tarkett continuously works to close the loop on waste, using more recycled content to preserve the planet's natural resources, and by recycling products when they reach their end of life. This ensures Tarkett products are part of a circular economy, which reduces the carbon footprint of the floor and our own business.
If you are in need of a new floor and want to ensure you are decarbonising your building, why not try out the new Carbon Calculator tool below:
https://professionals.tarkett.co.uk/en_GB/node/carbon-calculator-16501
*Thomson C. Reducing the carbon footprint of hospital-based care. Future Hosp J. 2015 Feb; 2(1): 57–62