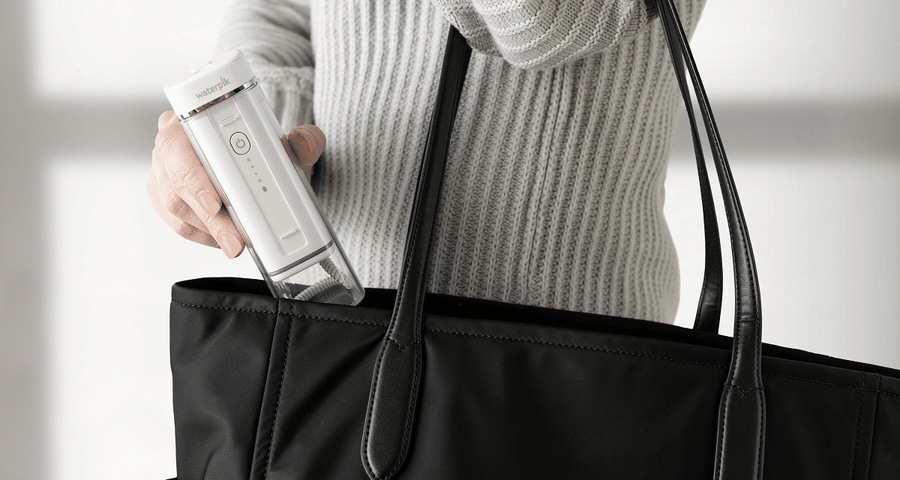 #

Product Trends
Waterpik Announces the Expansion of its Handheld Water Flosser Collection
WATERPIK—the most trusted name in water flossing and the number one recommended water flosser brand by dental professionals, expands its handheld water flosser collection with the new Cordless Slide.
The store anywhere, go anywhere water flosser is strategically designed to slide to half of its original size so anyone can take their oral care routine to the next level and water floss wherever and whenever they desire.
With a convenient and collapsible design, the new Cordless Slide is made with effortless storage and travel in mind. This compact model can be easily stored both standing up and laying down, making it perfect for putting in a drawer or packing in a small travel bag. It features a rechargeable lithium-ion battery for up to four weeks of use from a single charge, three precision flossing tips designed to clean the whole mouth—even back of teeth, and three pressure settings for a truly customizable clean. Cordless Slide is also waterproof and can be used in the shower.
"At Waterpik, we believe everyone's smile deserves the best. To ensure that everyone can take advantage of the clinically proven benefits of using a Waterpik Water Flosser, we make products that are convenient and easy to use. Cordless Slide features a smart, space saving design that takes up less space. It can easily be stored in small bathrooms that are full of other devices," says Dan Cover, Waterpik product marketing director.
Waterpik prides itself in its clinically proven products that are accepted by the American Dental Association (ADA) to deliver safe and effective oral care. Cordless Slide removes up to 99.9% of harmful plaque bacteria and is up to 2X as effective as string floss for improving gum health.
With innovative technology, Cordless Slide delivers warm, pulsating water along your teeth and gumline to remove leftover debris and plaque bacteria for an elevated oral care routine and experience.
"I am a long-time brand fan and honored to have been a part of the Waterpik family for the past six years, seeing the brand continue to innovate for all to experience an ever-increasing standard of oral hygiene," says Dr. Chris Strandburg, DDS, Waterpik spokesperson. "Not all mouths are the same, nor are people's lifestyles, and everyone needs a water flosser that will easily fit within their routines. With its compact design, powerful water pressure and ease-of-use, the attractive and fun new Cordless Slide will be great for my patients that are looking for a professional-level clean wherever they go."
The new Waterpik Cordless Slide is now available starting at $79.99 at Amazon, Best Buy, and other major retailers.
For more information, visit waterpik.com.
About the WATERPIK Brand
WATERPIK is the #1 brand of water flossers and replaceable shower heads and proudly engineered in Colorado, USA.
The company, founded in 1962 by a dentist and hydraulic engineer, has a rich history of innovation and design, engineering their products to deliver the wellness benefits of water in multiple new-to-the world products—including the iconic original WATER FLOSSER and THE ORIGINAL SHOWER MASSAGE shower head.
Water Pik, Inc. is a wholly-owned subsidiary of Church & Dwight Co., Inc.
For more information, visit waterpik.com. WATERPIK can also be found on Facebook, Instagram, and Twitter.