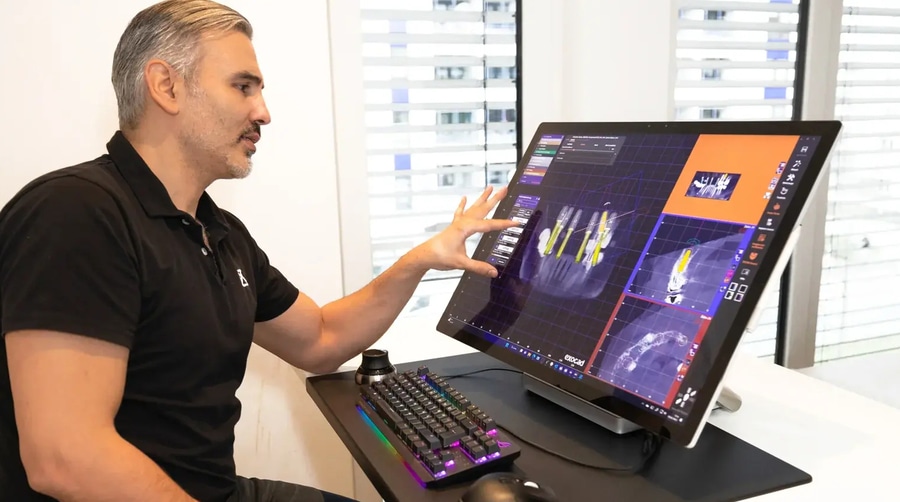 #

Industry News
Exocad releases new versions of its chairside and implant CAD software programs
DARMSTADT, Germany: Exocad, an Align Technology company and a leading dental CAD/CAM software provider, has announced the release of the latest version of its CAD software for single-visit restorations. ChairsideCAD 3.1 Rijeka features a new tool to easily customise tooth abrasion in real time and gives clinicians the ability to reuse anatomical designs for multiple restorations.
In addition, the company has announced the global release of the newest version of its powerful implant planning and surgical guide design software. Exoplan 3.1 Rijeka now enables users to simultaneously plan implants and design surgical guides for both jaws.
"Clinicians who want to increase patient excitement and accelerate treatment time will love ChairsideCAD 3.1 Rijeka," said Novica Savic, chief commercial officer at exocad. "The improved guided workflows and enhanced ease of use greatly simplify the transition from an analogue to a digital approach."
The new release focuses on ease of use for clinicians desiring efficiency and reliability in creating high-quality restorations. By enabling reuse of designs, it helps save valuable time along the patient journey when creating mock-up smiles for patient engagement, as well as temporary and final restorations. Improved case management with a guided workflow and new 3D scan previews provides clearer steps to achieving final restorations. With ChairsideCAD 3.1 Rijeka, users can create three-quarter crown designs and design restorations on stock abutments. To engage patients and increase treatment acceptance, instant in-face visualisation is now available in the Smile Creator add-on module. The Smile Window provides real-time visualisation of the results throughout the design process.
Further highlights include the following:
For iTero users, near-infrared imaging and intra-oral camera images are automatically incorporated via the iTero exocad Connector when designing restorations, making it possible to visualise the internal and external tooth structure and optimise the process of margin line tracing.
The upgraded full-function articulator, including a new in-skull articulator, allows incorporation of dynamic occlusion when designing any restoration regarding occlusion.
During anatomical free design, the affected parts of the design are visualised in green.
New built-in screenshot management tools make it possible to collect, edit and tag screenshots for improved communication and documentation.
In 2022, for the fourth year in a row, ChairsideCAD was selected for the Cellerant Best of Class Technology Award. ChairsideCAD 3.1 Rijeka is now available in select markets.
Exoplan 3.1 Rijeka improves patient communication
"Exoplan 3.1 Rijeka is designed with labs, clinics, and patients in mind," said Tillmann Steinbrecher, CEO of exocad. "We've incorporated a number of cutting-edge features that accelerate the implant planning process while offering surgeons and patients the predictable and highly aesthetic outcomes they want."
With exoplan 3.1 Rijeka, clinicians can meaningfully engage with their patients in ways that support treatment acceptance by performing rapid pre-planning that helps patients better understand the proposed treatment and then refine the planning and implant selection afterwards. The ability to plan implants and design surgical guides for both jaws simultaneously allows users to easily check the occlusion with reverse planning, saving design time. A full surgical protocol with a drilling sequence from start to finish provides a printable step-by-step plan for guided surgery, offering dentists a clear treatment overview. The new release also combines implant, sleeve, prosthetic and anchor pin placements in one step, ensuring the selection of compatible components using exocad's expansive library collection that is updated frequently.
Exoplan 3.1 Rijeka makes the documentation process easier. A new incognito mode makes it possible to blur patient information when necessary, and powerful tools for managing and customising screenshots make it easier to save cases, implant planning reports and surgical reports in one place.
Further key features of exoplan 3.1 Rijeka include the following:
faster tooth set-up with the Instant Anatomic Morphing feature;
improved editing of scan data; and
multi-view adjustment of CT alignment.
Exoplan 3.1 Rijeka seamlessly integrates with DentalCAD 3.1 Rijeka, exocad's dental CAD software, to facilitate the planning and production of implant-supported temporary and final restorations. The software's open architecture allows users to work with the 3D scanner, 3D printer or milling machine of their choice.
Exoplan 3.1 Rijeka is now available in Germany, Austria, Switzerland and the US, among other select markets.
ChairsideCAD 3.1 Rijeka and exoplan 3.1 Rijeka are an essential part of the Align digital platform, an integrated suite of proprietary technologies and services delivered as a seamless end-to-end solution to customers.
Exocad names its releases after European Capitals of Culture and selected the city of Rijeka in Croatia for its current release cycle.
Additional information is available at exocad.com/our-products/exocad-chairsidecad and exocad.com/our-products/exoplan-rijeka.