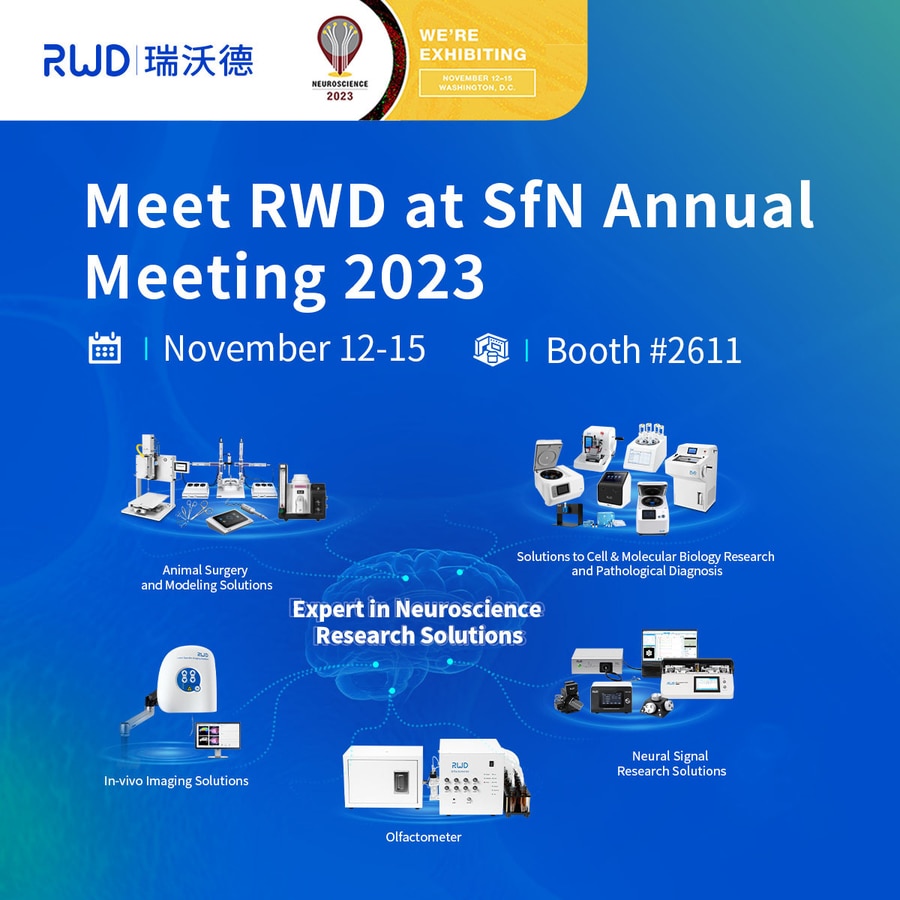 #

Trade Shows & Events
Meet RWD at Society for Neuroscience (SfN) Annual Meeting 2023
on-site demo
RWD is pleased to announce that we will be attending the Neuroscience 2023 (SfN) meeting. The exhibition hall will open from November 12th to 15th in Washington D.C., USA.
With 21 years of experience as experts in neuroscience research solutions, We are thrilled to showcase our latest cutting-edge products and comprehensive multi-disciplinary solutions to you. Come and visit our booth 2611!
Highlighted Products at SfN 2023
Our showcase will feature six main product categories, covering a wide range of neuroscience research areas, including cell culture, pathological sections, and animal behavior. These include:
Animal Surgery and Modeling Solutions
Neural Signal Research Solutions
In-vivo Imaging Solutions
Cell & Molecular Biology Research Solutions
Pathological Diagnosis Solutions
Olfactometer
The highly trained RWD solution experts will be available to address your inquiries and offer tailored, customized solutions to meet your specific requirements. Schedule a demo at SfN today!
Take a look and quickly download our catalogue to explore neuroscience product range in detail.
We look forward to meeting you and discussing how we can contribute to your research success.
More Free Gifts
Booth visitors can get a free doll, and also can enjoy free coffee.
We also offer you limited free guest badges – only 21 remaining! Email us now to recieve your free hall pass.